BeLive - The Best New Live Streaming Platform?
Dec 29, 2020
There has been a major surge in the popularity of live streaming over the past few years. More and more people are turning to third-party tools to host or participate in Facebook live interviews, YouTube events, live LinkedIn broadcasts, and simulcasting to all platforms at the same time to create new, engaging content.
At courseCREEK, we are avid users of live streaming and we recommend it to our clients as a means to capture engaging new content, in an efficient way. We use it for simulcasting, interviews, promotional announcements, Q&A sessions and it can even be used for "offline" production, meaning, straightforward video production for your own needs without broadcasting.
While we have experimented with a number of helpful tools, BeLive has become the most prominent live-streaming tool in the arsenal. In this article, we'll offer you a review of this powerful streaming platform and pit it against a few of the top live-streaming tools on the market today.
BeLive Review
Those seeking out a larger audience, or those who are looking to broadcast to the public, including their personal online communities, should highly consider BeLive as a solution.
Compared to other live streaming applications, it provides some of the highest-quality broadcasting with an easy-to-use interface.
Top BeLive Features
BeLive Platform
BeLive is a browser-based platform, meaning it allows visitors to join using their computers or mobile devices with the use of a link. Those hosting a BeLive broadcast can pin this link to the top of the Facebook or YouTube comments section, for example, and share it through a variety of channels, so all types of users can join.
BeLive users can make use of the authorization feature to host or manage streams from their computers.
Hosts can schedule Facebook, YouTube, or LinkedIn broadcasts as well. We absolutely love the scheduling features, as it allows you to promote your live stream prior to going live.
Belive is in the process of rolling out their new "Linkedin Live" service, which is a huge win for those who don't use Facebook or Youtube for business.
BeLive Vs. Native Streaming
While native streaming through Facebook might be the easiest and cheapest option, it does have a few notable shortcomings compared to BeLive.
One of the most notable downsides to native live streaming with Facebook is the fact that the interface is fairly primitive. For starters, the desktop user interface is incredibly burdensome for those who are new to live streaming. It can be quite complicated to navigate.
While Facebook live streaming is much easier with a smartphone, the limitations of having to broadcast using a smaller screen can be troubling.
Another problem is, if you do a vertical live stream, the host appears in the center of the screen while the guest appears in a small box in the corner of the screen. For professional interviews that will eventually be captured and uploaded to websites for post-streaming viewing, this is a MAJOR downside.
Download Your HD Videos in Post Production & Repurpose
One major advantage of Belive compared to native streaming platforms is video quality.
Belive PRO makes use of FULL HD (1080p) video quality. Not only do you get VASTLY better video quality compared to Facebook during the streaming process, but Belive allows you to download the video and make post-show edits so you can repurpose the content for other social media uses. Belive's closest competitors do not allow you to download HD video source files
This alone makes it the hands-down winner, especially if you are someone who is producing content regularly.
Unlimited Streaming with Four On-Screen Participants
With the pro version of BeLive, users get access to unlimited streaming. This means that you can have as many live shows as you want per month with up to four on-screen participants. Each of these streams can go up to eight hours.
With 90-day storage, all of your live videos are stored for you to access post-stream.
Live Sales
One of the most effective ways to generate revenue from a stream is to have a CTA ( Call To Action ) near the end of the interview or presentation.
With the Live Sales feature, users can pin CTAs to the end of webinars to sell any products that they are marketing. In our case, that product is often courses from the creators we are interviewing or speaking with during the live stream.
Simulcasting
With the Simulcast feature, you can stream to two destinations simultaneously. We often use this feature to stream to Facebook, YouTube, and LinkedIn during a single broadcast.
To utilize Simulcasting, you simply select a single broadcast destination, then use the (+) button to add a second streaming destination.
It's incredibly simple and effective for gathering as much traffic to your stream as possible.
BeLive Editor
The video editor provides users with five main sections:
Trimming screen

Timeline

Audience & Studio Activity

Overlay

Background
Even without prior video editing knowledge, the BeLive video editor makes it extremely easy to inspect various clips, upload photos/videos/media, add crawler text, add guests, and much more.
You can use the video editor to trim and edit your broadcast to show people the most engaging portions.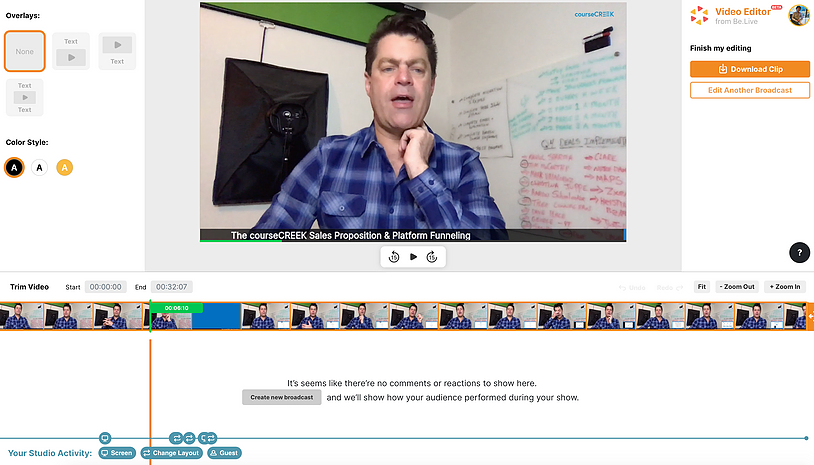 Facebook, YouTube, & LinkedIn Integration
Users have the ability to stream their shows, interviews, and meetings to Facebook, YouTube, and LinkedIn live.
On Facebook, users can either stream to their timeline, group, or page.
Whenever you finish a stream, you can download your broadcast in an audio file as well. If you are in the realm of podcasting, having the ability to download high-quality audio is a HUGE benefit.
Collaboration
Viewers can interact with the feed during a live show, commenting and reacting using Facebook, YouTube, and LinkedIn reaction tools. The comments are shown with profile pictures attached so that the host can chat with or mention interactive users during the show.
The host can also have private chats with guests during the show from the BeLive studio. This feature can be incredibly helpful for Q&As.
Layout Customization
It's incredibly easy to customize a live stream using overlays, backgrounds, logos, and more. You simply upload your custom elements to the BeLive design studio so that you can showcase your brand while you are live.
To create a dynamic show, users have the ability to use frames and split screens. There is complete dynamic control over how the screens are laid out during the show. For streams where screen sharing is a must, the picture-in-picture option becomes helpful, allowing the host to have their camera and screen in one frame.
Beyond the basic live show elements, BeLive also provides a number of themes, which allow users to choose the look of their crawlers and lower-thirds.
The helpful Agenda feature allows hosts to prepare words or phrases that appear near the bottom of the screen throughout the show, just as you might see during a live news broadcast. In fact, BeLive is the only tool out there right now with an in-built agenda.
Using the PRO plan, you can make use of multiple cameras at once with the Agenda tool too.
BeLive Vs. Zoom
People often like to compare BeLive and Zoom, however, they are two completely different platforms. Zoom is a much better choice for smaller groups looking to engage in calls or meetings.
The Zoom platform is more of a video-conferencing platform, which allows users to share links to access meetings or webinars. Users must still download the app to join conferences even though it is a cloud-based tool.
The reason users compare these two platforms often is the fact that Zoom allows users to integrate to Facebook and YouTube as well. You can use Zoom to stream meetings to your YouTube page or Facebook timeline.
Compared to BeLive, Zoom is fairly complicated to set up for Facebook live-streaming.
To have full access to Zoom, you will also have to pay $50 per month. Compare that to $20 per month, which is what it costs to have full access to BeLive, and the choice becomes a bit easier.
Pros and Cons
Pros
Downloadable audio and video files for post-production

The ability to simulcast to Facebook, YouTube, and LinkedIn live.

A built-in, convenient editing tool saves time in post-production

Templates and design features that make your streams look professional

Passionate and helpful community with a solid customer service team

A wide variety of excellent dashboard features, including the Agenda tool.

Multi-camera support, allowing the host and guests to switch between multiple camera angles
Cons
Honestly, we can't think of any worthy of posting here.
Is BeLive the Right Tool For Your Needs?
So now the main question becomes,
Which streaming tool should you use?
While it all depends on your personal needs, BeLive is certainly the most versatile live streaming tool on the market today. If you are looking to connect with customers, friends, students, or larger communities through social media, BeLive is the tool to have in your arsenal.
Follow the link here to the BeLive main page to try it out for yourself.
The

10 Lessons

About Online Course Creation, I Had to Learn the Hard Way.
Get the 10-Day free email course sent straight to your inbox.
We hate SPAM. We will never sell your information, for any reason.