Is UpCoach The Best Group Coaching Software In 2021?
Jan 20, 2021
There is nothing quite as satisfying as being a group coach. With group coaching, you have the ability to bring people together and help them master a skill or trade.
While 1:1 coaching, whether in-person or online, is great, group-coaching has plenty of additional benefits. It allows you to bring together smaller groups of clients to encourage and learn from one another.
Group coaching allows clients to build habits faster and develop new practices with ease, far better than they might with 1:1 coaching. Operating in a world of unknowns can be difficult as it is. Having the support and structure to achieve specific goals alongside peers is essential.
Plus, 1:1 coaching can be costly. Many companies and business owners simply don't have the resources to do it.
This is where software like UpCoach comes into play. With UpCoach, you can connect clients faster, scale your coaching programs, and consolidate your services and payments under one roof. With its recent redesign and 2.0 interface, it has become one of the top pieces of group coaching software on the market.
If you've been considering different pieces of online coaching software, allow us to divulge to you what we believe makes UpCoach one of the best around.
Program Creation
If you already have an online program, then you'll love the program feature. It has been specially designed for those who already have an online program. Coaches can upload various resources and videos in the form of "Modules."
It's so easy to set your program up in UpCoach, adding various modules, customizing your program with video URLs, adding to-dos, habits, and resources.
The Program feature allows you to share assignments, videos, and instructions with absolute ease. You can assign certain programs to certain groups in several ways, all of which make client communication easy.
Design Tools
The Agenda Templates and Agenda Designer Tool are great for setting up new groups with ease. Setting up a new group with the desired agenda structure is easier than ever. All you have to do is choose your agenda template and begin customizing it to fit your particular needs.
There are plenty of powerful editing and customization options that you can make use of, including the Sections tab. You can add and remove sections, edit titles, edit durations, and more.
With the Section icons, your students will find it easy to navigate through your various agendas.
If you watch the video below, you'll see just how easy it is to organize your various sections.
[VIDEO]
Client Management
As you continue to scale your business, managing your clients can become increasingly difficult. With UpCoach, you have the ability to keep all of your clients in one place. This way, you can track their progress and get a better look at their engagement with your coaching.
Keeping all of your clients under one roof allows you to better guide them through your coaching process, assist them when they hit roadblocks, and keep them accountable when they fall off track.
Course Creation
UpCoach gives users the ability to create courses for their clients from within the platform. The best part of the course creation platform is that coaches can automate the sharing of resources and to-do lists to help guide their students along.
Specific modules can be shared with students at the correct pace.
Plus, the course creation interface is simple and user-friendly. You can add text, videos, and other resources, all in a matter of minutes.
Organize and Schedule Meetings
One of the most difficult things about coaching multiple clients 1:1 or coaching groups on various platforms is the scattering of information. As our client bases begin to grow, it can become difficult to keep things organized.
I can't even begin to tell you about the amount of stress I've felt trying to maintain schedules and a system of organization in a fast-moving, ever-changing environment like this one.
UpCoach keeps all of your necessary information in one place so that you never miss a meeting, double-book clients, or spend time stressing about your weekly schedules.
Plus, they have tons of pre-made meeting templates that can be used to create personal agendas if you don't want to build one from scratch.
Speaking of scheduling, you can also view your past and future meetings with specific groups. Every new meeting that you schedule will automatically invite group members, reducing the time you need to invite multiple clients manually.
UpCoach integrates with both Zoom and Google Hangouts as well. You can add a Zoom link for your call and attach any necessary resources to go along with it.
Accountability Tools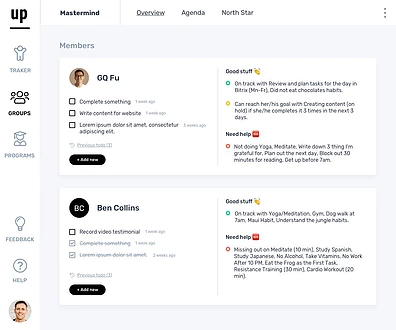 One of the great things about group coaching is that there is a sense of accountability that might not exist with 1:1 coaching. To take the idea of accountability even further, UpCoach created some helpful accountability tools.
Clients can see each other's progress with habits, todos, worksheets, and more, motivating one another and providing social accountability.
Plus, you can get a quick overview of how all of your clients are doing, give them feedback, or lend them some of your time for help.
Canvas Designer
One of our favorite UpCoach features is the Canvas Designer. The Canvas Designer allows users to create different canvases with various purposes and layouts. With these canvases, you can easily track the progress of your clients while storing important information.
[VIDEO]
File Storage
Like Google Drive, UpCoach comes with its own form of file storage, which allows users to access important files and documents and share them with individual clients or full groups.
Clients can be given the ability to upload files as well, including text documents, photos, videos, and audio recordings.
Third-Party Integrations

There are plenty of automation possibilities with UpCoach, thanks to the ConvertKit and Zapier integrations. Coaches can automate mundane tasks, including LMS, CRM, email, and more.
Program Editor
With the new 2.0 update, UpCoach brought some pretty powerful things to the table. There are two main types of content blocks found in the Program Editor, including Building Blocks and Designing Blocks.
These blocks make it incredibly easy to structure and design the layout of your program.
As you can see, the block icons are intuitive and easy to navigate. In a recent conversation with the team at UpCoach, we learned that they would be adding more blocks than the seven above in the very near future, including:
Menu

Image

Chat

Timer

Google Drive

Forum

Mailchimp

Intercom

Stripe
Bottom Line
UpCoach is one of the most flexible group coaching platforms on the market right now. It allows coaches to consolidate all of their clients into one platform, create courses, organize meetings, upload files, share files, and provide accountability.
If you're interested in seeing what UpCoach can do for your coaching business, follow the think HERE and try it yourself.
The

10 Lessons

About Online Course Creation, I Had to Learn the Hard Way.
Get the 10-Day free email course sent straight to your inbox.
We hate SPAM. We will never sell your information, for any reason.